Are you tired of paying for software that offers common features at a higher price? Well, if the answer to this question is yes. Don't worry, we have got your back.
Legal professionals understand the importance of effective legal software. They know how it can transform their daily work routine. Clio is software that has been present in the legal market for a long time. But now you can find Clio alternative softwares that offers similar features and benefits at a very reasonable price.
In this blog, we will explore CaseFox, a robust Clio alternative and the best legal software in the market. This legal case management software stands out because of its attractive pricing and advanced features. If you are a legal professional looking to switch from your old legal management software, this blog can be helpful. So let's dive in and learn more about CaseFox as a Clio alternative.
CaseFox Overview
CaseFox stands out as a cloud-based law firm billing software that offers comprehensive features. It is a user-friendly legal case management software that caters to the unique needs of legal professionals and firms. CaseFox is suitable for all sizes of law firms. CaseFox offers free legal billing software features for solo practitioners. From legal billing and invoicing to case and document management, CaseFox offers a wide range of features. All these features streamline the daily activities of legal professionals. CaseFox is one of the best Clio alternatives because it offers various similar features that too at a competitive price.
CaseFox VS Clio
Pricing
While selecting any case management software, pricing is the first factor that legal professionals consider. Software that is available at an affordable price and offers comprehensive features can catch legal professionals' attention. Below, we will compare the pricing of CaseFox and Clio.
a. CaseFox Pricing
One of the key factors that set CaseFox apart from its competitors is its pricing.
CaseFox has one flat pricing and offers all the comprehensive features within it. Not just that, solo practitioners can sign up for free and enjoy all the features that CaseFox offers. CaseFox also offers a flexible pricing plan for enterprises and a tailored plan that fits their needs. You can get both monthly and annual subscription options with CaseFox. Allowing clients to choose plans that are suitable for them. Furthermore, CaseFox is the best Clio alternative because it's pricing tiers are significantly more affordable compared to Clio. Legal professionals who are cost conscious find it an attractive alternative.
b. Clio Pricing
There are various legal management software in the industry and Clio is among the expensive ones. It has four different pricing plans.
Clio's first 'EasyStart' plan cost $49 USD /user/month.
The next plan that Clio offers is 'Essential' which costs $79 USD/user/month.
The third plan that Clio offers is the 'Advanced plan.' This plan has more features than EasyStart and Essential plans.
Lastly, Clio offers a complete plan that costs $149 USD/user/month. This is the most expensive plan that Clio has.
User-friendly Interface
Software that has a user-friendly interface will grab legal professionals' attention. Legal professionals are usually not that comfortable with technology. So it is necessary to offer them software that has a user-friendly interface.
a. CaseFox Interface
A lot of legal professionals prefer CaseFox as a Clio alternative because it has an intuitive interface. It allows lawyers to navigate the software efficiently. The clean interface and organized layout make it easy for lawyers to access all the features. The easy-to-navigate interface of the software creates a seamless user experience.
b. Clio Interface
Clio's UI is appealing and eye-catching. But Clio UI is not that user-friendly. Navigating through Clio can be difficult, as users may take a little longer to get comfortable with the UI.
Billing and Invoicing
Billing and invoicing are a huge part of any legal case management system. Handling bills and invoices can be difficult for legal professionals. But with the help of legal billing software, it has become easier for legal professionals to manage their finances.
a. CaseFox Legal Billing & Invoicing
Billing and invoicing is the robust feature of CaseFox. When it comes to billing and invoicing, CaseFox is much better than numerous other softwares. Users can generate professional-looking invoices. The software also offers customizable templates. Lawyers can also customize billing rates and apply discounts. CaseFox also provides opportunities for users to set recurring billing for regular clients. With an online payment option, it ensures a seamless and efficient law firm billing experience. There are various payment integration options available, such as PayPal and LawPay.
b. Clio Legal Billing & Invoicing
Clio is a cloud-based legal practice management solution that offers billing and invoicing capabilities. Law firms can enhance and streamline their financial process. But Clio's legal billing is not as powerful as CaseFox.
Client Communication
Communication plays an essential role in connecting legal professionals with their clients. Effective client communication leads to client satisfaction, which is why it is an important aspect of law firm billing software. Below, we will compare the communication features offered by CaseFox and Clio.
a. CaseFox Client Communication
CaseFox offers tools that facilitate seamless client communication. These tools include a secure client portal and messaging feature. Lawyers and clients can securely share any case-related sensitive information and document through the client portal. They save all the necessary communication in one place, ensuring a transparent client experience.
b. Clio Client Communication
Clio also offers client communication through client portals. The communication feature that Clio offers helps them establish transparent relationships with their clients. The only drawback is Clio's learning curve. Legal professionals may need more time to adjust to client portals. It may be a little difficult for them to understand and navigate it.
Legal Calendaring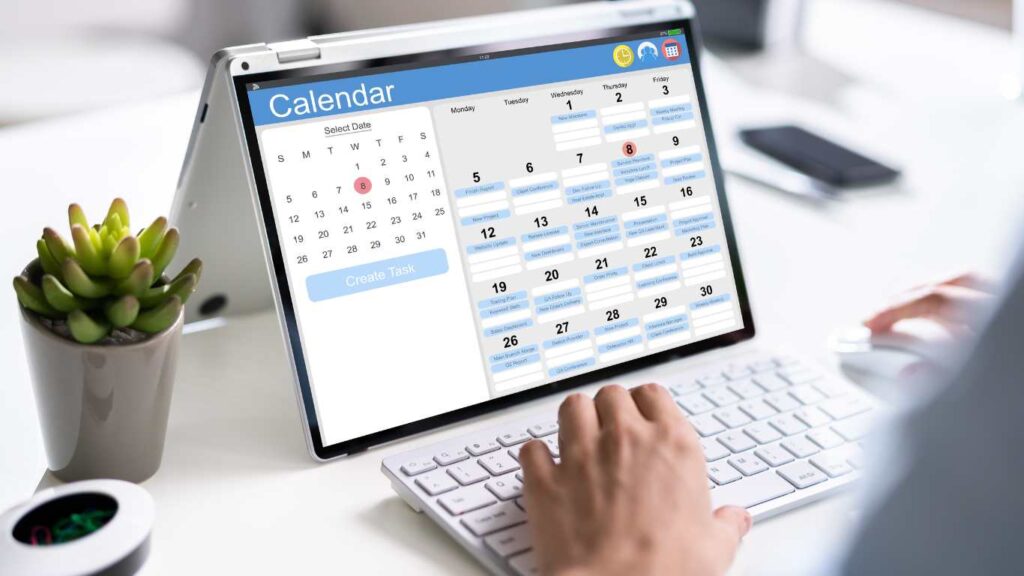 To manage deadlines, tasks, court appearances, and other important law firm events, a legal calendar comes handy. With calendars, legal professionals can mark important dates and deadlines. A calendar is crucial for lawyers and firms to stay organized.
a. CaseFox Legal Calendar
With CaseFox calendaring, feature users can automate event management. It also provides multiple calendar views and helps in meeting all deadlines. CaseFox also offers Google and iCal integration, which enables users to manage their calendars from anywhere. Users can sync their firm's calendar with personal calendars, this will help track all the deadlines and tasks. CaseFox also streamlines scheduling and promotes collaboration among all members of the firm. This will help legal professionals stay organized and on top of their caseload.
b. Clio Legal Calendar
Clio is a law management software that has an intuitive legal calendar. Clio's calendar allows legal professionals to schedule and manage their appointments and deadlines. But Clio may lack features like adding recurring events with complex patterns. It also doesn't have the ability to send meeting invitations directly to the calendar.
Comparison Table: CaseFox VS Clio
| | | |
| --- | --- | --- |
| Pricing | Solo – Free Pro – $39 per month | Easy Sart – $49 per monthEssentials – $ 79 per month Advanced – $ 119 per month Complete – $ 149 per month |
| Document Management | Seamless Document Management | Inefficient Document Management |
| Customer Service | 24*7 Customer Service | Customer Service In Business Hours |
| Client Communication | Client Communication through the client portal | Client Communication through the client portal |
| User Interface | Easy To Use Interface | Complicated User Interface |
| Invoice Generation | Bulk Invoice Generation | Bulk Invoice Generation |
The Bottom Line

While various individuals recognize Clio as the leading software, now there are various paid and free case management softwares. CaseFox is the compelling Clio alternative with advanced features and competitive pricing it offers. CaseFox offers a free trial and free account for solo practitioners. The cost-effective pricing of CaseFox attracts various legal professionals in the industry. Whether you are a solo practitioner or a large law firm, CaseFox is there to meet your needs. It can streamline your legal practice and enhance the overall productivity of the firm. Not just that, it offers exceptional client service. With competitive pricing and robust features, CaseFox is undoubtedly the best Clio alternative. It is worth considering for your law firm's needs.